ODU Receives Racially Charged Bomb Threat
Social Media drives a Norfolk State student to threaten ODU students
By Craig Smith and Kendra Wells
On Thursday, October 24 at about noon, all ODU students and staff were evacuated from the Webb University Center, an ODU hub where students eat lunch and engage in activities. Police searched the building with dogs, looking for a bomb. Eventually, everyone was allowed to return to the building.
The threat sparked varying reactions among members of the university. One Webb employee claimed: "I just figured it was another wacko off their medicine." On the other hand, many of the students were increasingly concerned. One student stated "My mom was pretty freaked. She's been upset about my school of choice and its run with crime, so this doesn't help." Another indicated "it makes me embarrassed to go here, you never know what's gonna happen next." While the threat scared some people, many were unsurprised, one ODU senior expressed "It didn't surprise me one bit, ole dirty always has something new going on," while another exclaimed "What can I say? It wouldn't be ODU without the drama and excitement!"
The next day ODU President John Broderick sent an e-mail to all ODU students and faculty. "Racially inflammatory comments were recently posted to a Facebook site called ODU Confessions," Broderick wrote. "This site is not associated with or condoned by Old Dominion University. The postings spurred an anonymous bomb threat against Webb University Center.
The post, which was immediately removed, said: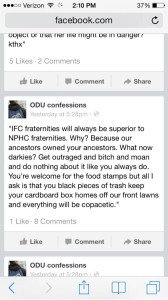 Many blamed the host of the web site, though legally he is not responsible for posts made. The host, who asked that his name not be used, is an African-American who said he obviously does not share the racist views for the post. He decided to publish the hurtful comment to "prove a point." He did not believe there was any reason for concern about repercussions or backlash, and was surprised by the reactions to the post.
The host took down the site almost immediately, but not before receiving multiple complaints. He launched a new site and apparently regained many of his followers, based on numerous likes received He was also brought in by the university to provide information to help find the person who made the bomb threat.
On October 29, Norfolk State University student Brandi Barnes was arrested based on a tracing of her computer's IP address. Barnes was charged with making threats on two social media platforms, a Class 5 felony, which can result in one to ten years of imprisonment. Barnes is being held without bond at the Norfolk jail. Her attorney did not return our phone calls.
According to multiple student sources attending the university, Barnes was a Resident Assistant in her respective dorm at NSU.  The original ODU student who posted the racist confession was never identified. Her sentencing is still ongoing, as her first hearing took place October 30 and she is expected to be tried again December 10.